The month is August is dedicated to bloggers around the world as 31st August each year is celebrated by the blogosphere as World Blogger Day.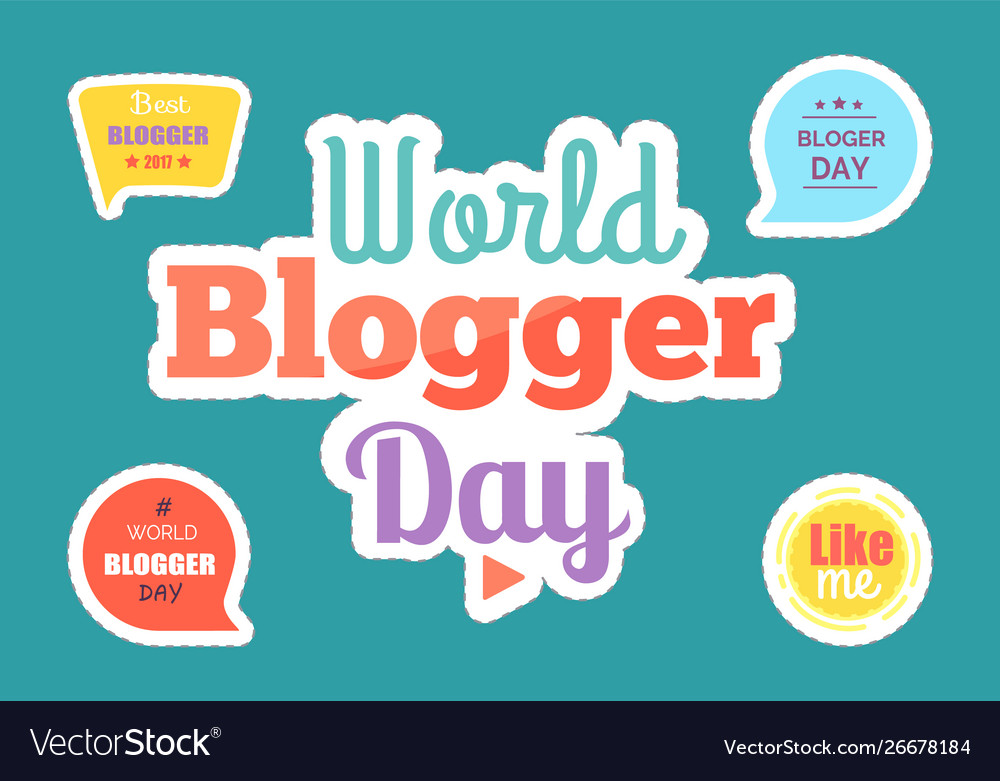 Blogging is a powerful method to share our views, experience, and knowledge either on a specific top, or on general discussion. As part of content marketing, blogging is a personal branding tool will make us stand out as reference in our subject matter. As a blogger on digital and digital marketing topics via Le Kiosque Digital du Burkina (in French Language) for four years now, we are seen today as a leading voice in our domain of blogging.
Studying marketing, sales and distribution in the year 2000's, we have been taught that marketing evolved basically through five phases.
The production phase: in the 1940's after World War II, the world everything. So, production in the focus as almost everything produced is sold. The demand was higher than the offer.
Sales phase: due to overproduction and many manufacturers joining to take the opportunity, the offer overtook demand. In the 1950's people started using sales techniques to sell their products.
Products phase: in the 1970's, with the development of technology and computer science (electronics, semi-conductors, microchips, etc.), marketing started focusing on innovation and technical features of products. We have seen for example the introduction of the Walkman by SONY.
Marketing phase: the world saw the first marketing approach in the 1980's going from market survey and studies, to segmentation, targeting and positioning. Brand also become a focus point for value
Eco-friendly marketing: in the years 1990's climate change, civil right movements and other societal issues led marketers to care about well-being with Corporate Social Responsibility activities and taking stands in causes.
We note that all these marketing approaches are mostly one to many, mass market and no finetuned data driven. With the popularisation of Web 2.0 in the mid 2000's, the rise of social media, community took power and had their say on brands, companies and their activities. Reacting (such as liking), commenting, sharing, creating content, and posting; this is the new reality where marketing operates. Digital marketing started. It is marketing, using digital tools and technologies, also MarTech.
Martech.org defines MarTech as the technology enabling marketing. "Digital data drives outcomes. Design, video and content tools drive experience. Automation is frequently the difference between high-performing and lagging marketing efforts. Technology furnishes marketers with more ways to connect the right audiences at the right time with the right messaging than ever. MarTech's mission is unlike any other. You'll get the mainstream marketer's perspective: innovative, practical, brand-safe, results-driven … and resource- and time-constrained. The quest is unearthing the universal challenges marketers face. The holy grail is revealing the countless solutions they devise to succeed in today's customer-centric, digital-first, and multichannel marketing environment. » Martech.org
Digital marketing is not a new form of marketing. It is marketing using digital technologies.
Gary Vaynerchuk put it better by saying that "Content is king, but marketing is queen, and runs the household".
The Digital Marketing Institute defines digital marketing as "the use of new media or digital technology to achieve marketing and business goals".
In the course module, we can read the following definitions of digital marketing:
Digital marketing described the primary use of digital technologies to support the marketing function of an organisation.
Digital marketing includes the delivery of online content to customers in order to attract and engage them in activities associated with the business's goods and services.
Digital marketing has various concepts:
Search Engine Marketing (SEM). There are several search engines but the most knows in Google. We also have Yahoo, Bing (by Microsoft). SEM can be: 

Search Engine Optimisation (SEO): the improvement of content to get organic reach in the top of search page results

Search Engine Advertising (SEA) also referred as Pay Per Click (PPC): basically, the core activity of Google Ads business

Social Media Marketing: focused on engaging with communities doing social networking. They are various social media platforms, and each channel has is specificity. Facebook (mostly social), YouTube (video and entertainment), LinkedIn (professional), Twitter (microblogging), Instagram (influencers), TikTok (short and raw video contents), Pinterest (inspirations), etc.
In the following diagram, we show the choice of each platform of social media depending on their orientation (professional/business, social, blogging, entertainment).
Email Marketing: email marketing is one of the best digital marketing tools as it a direct marketing, delivering content right into the inbox of the audience. With the use of email marketing platforms such as Mailchimp, Mailkitchen, marketers can get live reports, various metrics and KPIs, suggestions to finetune, and comprehensive reports on their marketing campaigns.
Mobile Marketing: according to Hootsuite, 66% of world population use mobile phones around the world which is 5,22 billion mobile phone users.
With mobile marketing, we can deliver content in mobile phones via SMS, email, web mobile-friendly optimisation, emailing, etc. Applications are also a full part of mobile marketing.
Ecommerce: one of the main objectives of marketing is to generate leads and ultimately drive sales. Ecommerce and mobile commerce are forms of commerce done through (including the payment) internet and connected devices.
When it comes to customer journey in digital marketing, several concepts of funnels are offered. The most popular one is AIDA.
Smart Insights defines the AIDA model as follow:
« The AIDA Model identifies cognitive stages an individual goes through during the buying process for a product or service. It's a purchasing funnel where buyers go to and fro at each stage, to support them in making the final purchase. It's no longer a relationship purely between the buyer and the company since social media has extended it to achieving the different goals of AIDA via information added by other customers via social networks and communities.«
Awareness: every buying process starts with awareness of our business or product. So, we need to create brand awareness in the mind of our audience.

Interest: once users are aware of us, showing benefits, solution can get us considered and interested by the buyer

Desire: we nourish the envy and create desire for our product through "emotional bonding", etc.

Action: it is the indented action we are looking in our Call-To-Action strategy. It can be a purchase, a subscription, a download, etc.
Smart Insights adds to the AIDA Model an "R", which is "Retention" that leads to loyalty and brand advocacy.
Facebook proposed the Awareness, Consideration, Conversion (ACC) model in their certification courses.
Awareness: Objectives that generate interest in your product or service. Increasing brand awareness is about telling people what makes your business valuable. For example, Jasper's Market is going to launch a small regional chain of grocery stores. Using the Brand Awareness objective they can create a campaign that highlights their fresh, organic produce to people in the local area.
Consideration: Objectives that get people to think about your business and seek more information. For example, Jasper's Market has a website that tells their story and lists some of their store's unique offerings. Using the Traffic objective they can create a campaign that encourages people to visit their site to learn more.
Conversions: Objectives that encourage people interested in your business to buy or use your product or service. For example, Jasper's Market has opened a few new locations. Using the Store Traffic objective they can create a campaign to encourage potential customers to stop by their nearest store.
This introduction to digital marketing allowed us to showcase our knowledge of the subject. Each concept can be deeply analysed and discussed.
In 2009, after creating our Hi5, then Facebook account and start using it, we saw the opportunity for business for this tool. Beyond just being an actor, we started studying the new trend. Reading, listing to podcasts, professional online training. We gained certification from the Shaw Academy, a Power Member of the Digital Marketing Institute, The Complete Digital Marketing Course from StackSkills, and various LinkedIn Learning. To master our subject, we have started teaching digital marketing in 2017. In the same year, we started blogging on digital. It is said that teach once, learn twice.
To take the learning and professionalisation journey further, we enrolled for a Master of Science in Digital Business at the Robert Kennedy College in collaboration with the University of Salford Manchester. We are gained new skills in digital business, project management, leadership and digital transformation.
Liste of references:
Digital Marketing Institute. Digital Marketing Study Notes. Retrieved on the 28th of August 2021 from https://digitalmarketinginstitute.com/resources/lessons/introduction-to-digital-marketing_concepts_4sw9
Hootsuite. Digital 2021. Executive Summary Report.
Facebook for Business. Chose the Right Objective. Retrieved on the 28th August 2021 from https://www.facebook.com/business/help/1438417719786914
Le Kiosque Digital du Burkina. Boukary Zorom (2019), 31 août, journée mondiale du Blog. Retrieved on the 28th of August 2021 from  https://lekiosquedigitalduburkina.com/2019/08/31/31-aout-journee-mondiale-du-blog/
Smart Insights. Annmarie Hanlon. August 2021. The AIDA Model. Retrieved on the 28th of August 2021 from https://www.smartinsights.com/traffic-building-strategy/offer-and-message-development/aida-model/